For the future-oriented DTG printing
The Kyo Link Series is for companies that aim to work with the most technologically advanced DTG printers on the market.
It connects complex front-end interfaces with demanding back-end processes, can be linked with a wide variety of applications and uses the most modern RIP software. The Kyo Link Series allows effortless connections to a homepage, online shop and API interfaces. Further highlights are an integrated projector, scanner and heat press with which R2P materials can be pre-pressed. Of course, in addition to the smooth human-machine interaction, as with all aeoon printers, you achieve unrivaled production capacities with the highest quality print results.
The Kyo Link Series is therefore the most suitable printer for companies with high production volumes and automation requirements, which want to remain competitive and well equipped to produce for future market requirements.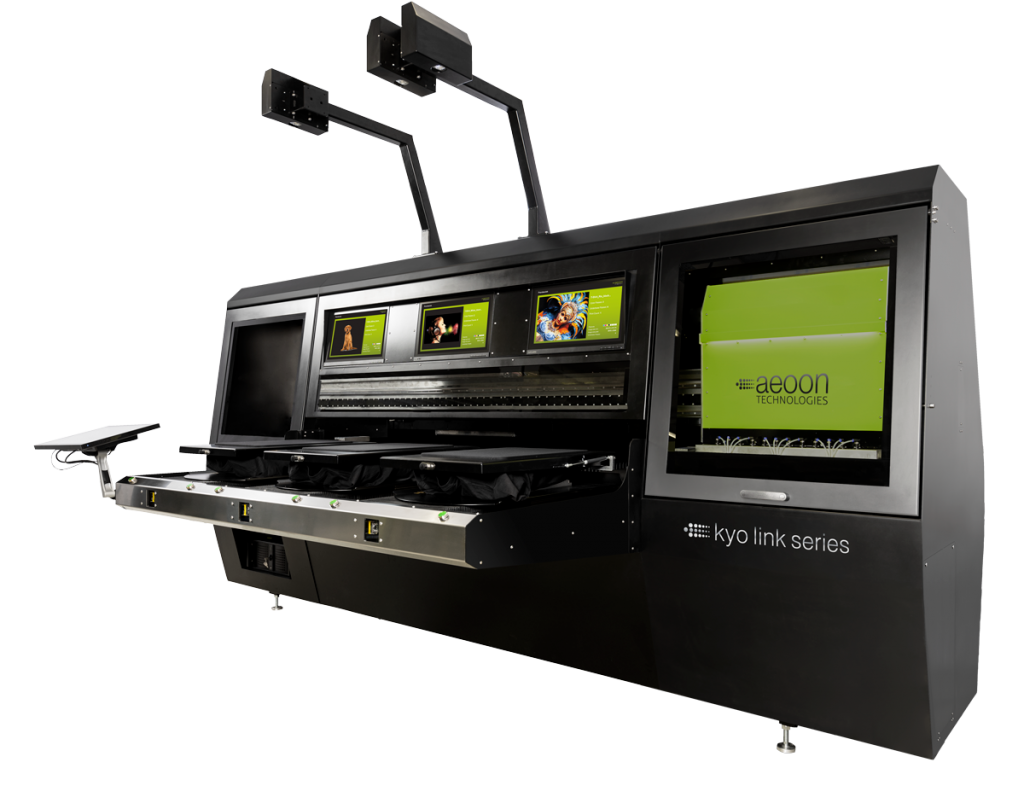 Output C8 – on dark garment
Print size  (40 x 20 cm / ~16 x 8 in)*
Depending on the performance of the operator, on the material and design.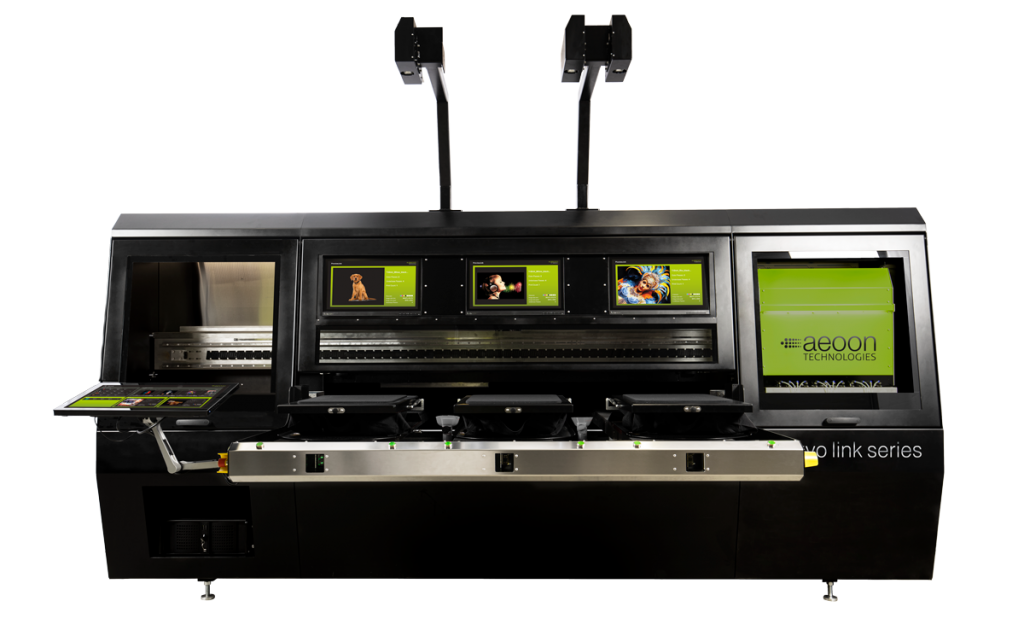 Latest software version
Visualisation for each print job on an extra screen
Job scanner for each print station
Improved automation functionality
Improved integrations platform
No use of pretreatment on white garments – for low printcosts
Integrated heat press for pre-treated T-shirts, max. size 40 x 50 cm
Industrial print heads with a print resolution from 600 dpi up to 2400 dpi
Integrated beamer
Integrated API interface
Thomas Dress, CEO & Founder of Smake®
"Smake® recommends the Kyo Link series especially for POD customers with one-offs. The additional features, such as the integrated scanner, pro-jector and heat presseses for pre-pressing R2P shirts or freshly pretreated textiles, provide the perfect base for integrating the Link into a fully automat-ed production process."
| Industrial printheads: | 8 or 12 |
| --- | --- |
| | |
| | Double CMYK, CMYK|4W, Double CMYK|4W, CMYK|8W or CMYKOG|6W |
| | 60 x 90 cm / 23.6 x 35.4 in |
| | Cotton, synthetics, mixed fibers, canvas, wood, leather and more |
| | 410 x 290 x 200 cm 161.4 x 114.2 x 78.7 in |
| | |
| | 400/208 VAC, 50/60 Hz, 3 Ph, 16 A – max. power input: 7.5 kVA |
| | |
| Environmental conditions: depending on the ink used | Temperature: 22 – 28 °C, Humidity: 65 – 90 % |