No events currently scheduled… 
If you would like to schedule a demo (in person or virtually) please reach out below.
Open House 2021 – Launch aeoon North America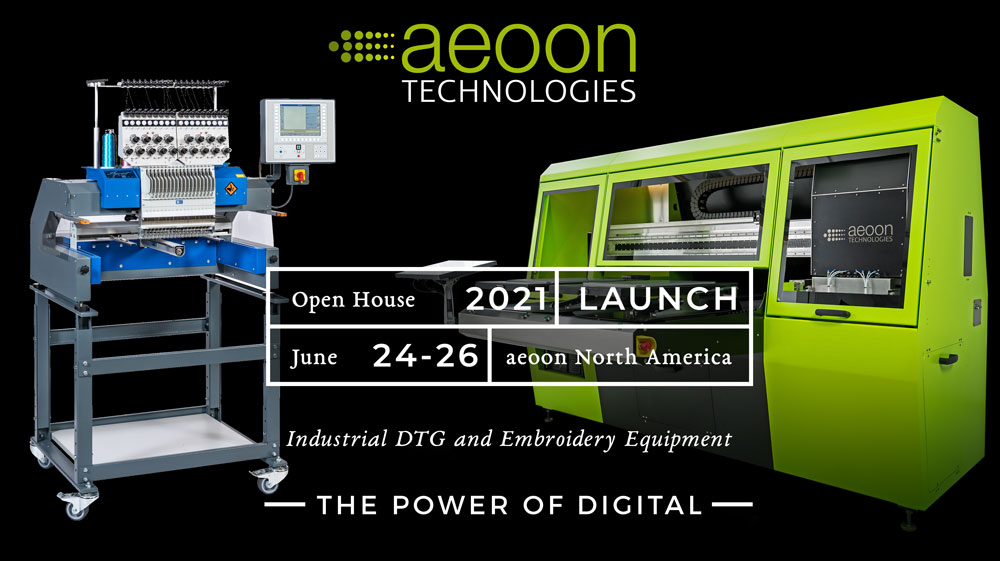 Join us June 24 – 26* for an Open House Event showcasing ZSK embroidery and aeoon technologies Compact Series DTG. Located just outside Milwaukee (approximately 30 minutes from the airport), aeoon North America will be open for live, production style demonstrations featuring full workflow solutions for order fulfillment as well as in-depth cost analysis and ROI. We also invite you to bring your own artwork / graphics to print – that way you can see the complete process and true capability of the equipment. Stop by anytime between 10:00 am – 5:00 pm* to visit and learn all about DTG and Embroidery – we are also taking appointments to fit your schedule. Please fill out the form to reserve your spot and receive a free gift for attending.
*June 26th is by Appointment Only
Digital to Garment (DTG) and Direct to Film (DTF) Technology is ever evolving. From the origin of DTG, aeoon technologies has been refining the digital process using sustainably responsible methods with high-speed performance and superior output quality while boasting the lowest cost per print. Learn about the newest innovations in DTG and DTF from technical and support specialists. Explore the inner workings of the equipment and why Aeoon sets the standard for true industrial DTG.
In the world of online media platforms and ecommerce, Aeoon can help tie your production into the digital presence with efficient and productive workflow. Learn proven successful strategies which apply to many markets, from large contract fulfillment partnerships to small run, direct fulfillment of custom pieces or even private label work. 
The COVID-19 Effect on DTG Growth
Amid the COVID-19 crisis and the economic downturn, the Textile Printing market has grown exponentially. We will discuss the effect COVID has had on the growth of the market and how this industry is surpassing the expectations of the pandemic worldwide. DTG will only continue to grow and flourish as we move forward.
The common question is, "how much is the cost per print?" We will cover this main topic and other vital elements that feed the bottom line – such as production time, projected output, pretreatment solutions & costs, workflow, maintenance expense/cleaning cycles, selling price, and key details that impact a successful production facility. In addition, we will compare industrial vs commercial vs hobby equipment to review how to create your own cost / benefit analysis.
Leverage Financing in Growing a Business
In a world of low cost of capital options, we will help you to understand some of the different financing products which can be used to leverage credit to grow your business. Understanding a lease to own, EFA, or buydown financing is instrumental when choosing how to find the right fit for your capital expenditure.
BYOG (Bring Your Own Graphics)
Yes! Please bring your graphics (and even garments if you wish) to test your images on the aeoon Compact Series DTG. We are happy to show you the true capabilities of the machinery. Our technical and support staff will be there standing by – demonstrating the machine and answering your questions.
Mixed Media – DTG / Embroidery – Growing a Niche
Pair DTG with Embroidery Embellishment – it's just one way to mix decoration technologies and provide a niche product. With the aeoon and ZSK machines, we will show you how to take a print and embellish it with embroidery, using perfect registration tools to ensure accurate registration even after handling the product from machine to machine!
The future is here with advanced embroidery machine optics. Come see how a machine can actually see where to stitch and digitize on board! Another method to mix embroidery and print is possible using this new and innovative camera system.